Shopping Cart
Your Cart is Empty
There was an error with PayPal
Click here to try again
Thank you for your business!
You should be receiving an order confirmation from Paypal shortly.
Exit Shopping Cart
Pet Sitting & Home Watch Services
~ providing a little peace of mind while you're away ~
| | |
| --- | --- |
| Posted on December 29, 2013 at 6:24 PM | |
Bone broth is a great first food for animals recovering from GI irritation or illness. Also, if you have a pet that's finicky, you can also use it as a topper on food. If you have a pet that doesn't want to eat anything, feeding bone broth provides concentrated nourishment and helps get the GI tract functioning again.
I use a whole organic chicken. You can also use beef thigh bones (also called "soup bones"). As you continue to simmer the bones, they release all of their minerals and marrow into the water. The resulting broth is a very healthy, nourishing first food or end food, depending on when you offer it to your pet.
It's important to understand that bone broth alone is not a balanced diet. Even if your pets absolutely love it, they need more than bone broth to be healthy. But, it is a great way for you to offer extra nourishment in a really palatable form.

Directions to make Chicken Bone Broth:
Always start with filtered water for cooking. Fill up your pot with water – a big stockpot or crock-pot works well. How much water you'll need depends on how much bone broth you want to make. I prefer to make bone broth fresh and use it right away, but you can also make it and freeze it.
I do recommend feeding organic meats to your pets whenever possible, because of the pesticide residues. Also, happy healthy food animals produce healthier meats for our pets.
Rinse off the chicken, put it into the water, turn on the heat, cover your pot and cook at a nice, low simmer for a two or three hours or until the meat falls off the bone. Stir it occasionally while it cooks. Offer your pet some of the meat and skin to eat.
One important ingredient to add to your stockpot is vinegar – you need to add a little bit of vinegar to the water. Acetic acid (vinegar) helps leech the minerals from the bones into the stockpot water, which is ultimately what you'll feed to your pet.
The goal is to extract as many minerals as possible out of the bones into the broth water. I use Bragg's raw apple cider vinegar. I like Bragg because it's raw, unfiltered and unpasteurized, but you can use whatever vinegar you have in the house. Use about a teaspoon per gallon of water.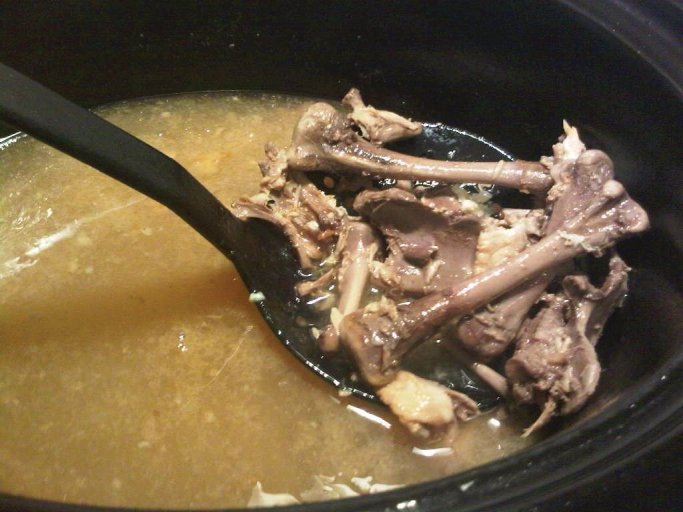 Once the meat has come off the bones, remove the meat, bones and some of the broth from the stockpot. Separate the meat from the bones. Put the bones back into the stockpot, then add more water, another splash of vinegar and continue cooking the bones to make a second round of broth. For the minerals to leach out of the bones, you'll need to simmer them for the next 24 hours.
I prefer to put this second round of broth through a strainer, drain off the fluid, let it cool, and feed it to my pets. Some people like to put their second round of broth in a blender to grind down the remaining fine, soft bones, because cooked bones can be a choking hazard. 

Important note: you should never feed your pet cooked bones. After boiling the bones down to the point where they disintegrate and dissolve, you should throw out any remaining bone fragments.
All my pets love bone broth. My kitties love it. My dogs love it. It's a great food to offer not only as a natural mineral supplement, but also as a nutritious diet for pets who aren't feeling well, who don't have much of an appetite or who are finicky.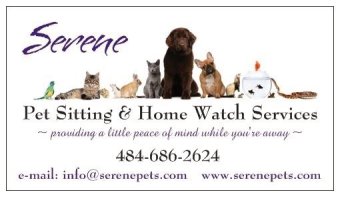 http://www.serenepets.com
Categories: Nourishment for an elderly or sick pet
/