Shopping Cart
Your Cart is Empty
There was an error with PayPal
Click here to try again
Thank you for your business!
You should be receiving an order confirmation from Paypal shortly.
Exit Shopping Cart
Pet Sitting & Home Watch Services
~ providing a little peace of mind while you're away ~
Ingredients:
1 raw sweet potato or 1 yam
Cooking Directions:

Preheat oven to 250°F.
Wash the sweet potato or yam (dark orange type).
Cut the sweet potato down the middle lengthwise.
Then cut long, lengthwise slices about 1/3 of an inch wide and place them (not touching) on a cookie sheet in a single layer.
Bake in the oven at 250 F for about 3 hours - this leaves the treats chewy.

If your dog prefers a crunchy texture, bake them for 20 to 30 minutes longer.

                                                                         Total Time:  3.25 hrs
http://www.serenepets.com
I added virgin coconut oil to the batter because it's awesome for dogs and humans alike. If you don't have coconut oil on hand, and don't want to run to the store, simply replace it with olive oil.
1/2 cup of peanut butter (creamy)
1/4 cup honey
1 tablespoon of virgin coconut oil (or olive oil)
1 cup chicken broth
1 cup rolled oat
1 cup oat flour
1 cup all-purpose flour 
Preheat oven to 350 degrees.
Whisk together peanut butter, honey, oil and chicken broth. In a separate bowl, combine flours and oatmeal. Mix dry ingredients into wet ingredients. Place dough on flour dusted surface. Roll or press dough out to about 1/4" inch thick.
Use a small bone cookie cutter to cut out cookies. My cookie cutter was a 5-inch bone-shaped , but for small dogs you may want to use a small cookie cutter (around 2″). Roll out leftover scraps and cut out as many as possible. Put cut out cookies on a parchment lined baking sheet. Bake for 14-16 minutes. Transfer to a cooling rack.

2 eggs
1/2 cup canned pumpkin
2 tablespoons dry milk
1/4 teaspoon sea salt
1 cup oats
2 1/2 cups brown rice flour *
1 teaspoon dried parsley (optional)
Preheat oven to 350
In large bowl, whisk together eggs and pumpkin to smooth. Stir in dry milk, sea salt, and dried parsley (if using, optional). Add brown rice flour gradually, combining with spatula or hands to form a stiff, dry dough.
Turn out onto lightly floured surface (can use the brown rice flour) and if dough is still rough, briefly knead and press to combine.Roll dough between 1/4 – 1/2″ – depending on your dog's chew preferences, ask first – and use biscuit or other shape cutter to punch shapes, gathering and re-rolling scraps as you go.
Place shapes on cookie sheet, no greasing or paper necessary. If desired, press fork pattern on biscuits before baking, a quick up-and-down movement with fork, lightly pressing down halfway through dough. Bake 20 minutes. Remove from oven and carefully turn biscuits over, then bake additional 20 minutes. Allow to cool completely on rack before feeding to your dog.
* Brown rice flour gives the biscuits crunch and promotes better dog digestion. Many dogs have touchy stomachs or allergies, and do not, like many people I know, tolerate wheat.

Makes up to 75 small (1″) biscuits or 50 medium biscuits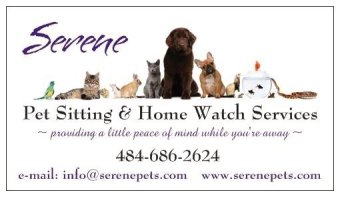 http://www.serenepets.com

/